THIS WEEK'S PREVIEWS
This is the week of the sensational film Gravity opening around the world. It's already the most talked about film of the year. I don't give out five stars lightly. A book or a film has to be perfect in its genre to receive that rating. That doesn't mean it doesn't have plot-holes but it means it delivers to its intended audience. Gravity is the Avatar or Inception of 2013. We will look back and say that this film changed our expectation of what can be done on film. Rush is also another great film but if you see one film this year, see Gravity.
(My movie Pick of the week)
GRAVITY
★★★★★
Opens in Australia: 3rd October, 2013
Other Countries:
Release Information
This is hands down one of the best space films you will see. I don't hand out 5 stars very often, maybe two or 3 a year and neither do most film critics. But universally, we all agree that this film is a stand out and should not be missed. See it on the biggest screen, IMAX 3D. Its what you call an experience. Every now and then a film comes along that pushes the envelope of technology and storytelling. This is 2013. If this film doesn't win a lot of categories at the awards then something is very wrong. Sandra Bullock gives her best performance yet. I dare say its the best performance of her career. Go see it and please remember to breathe occasionally. For my full review click here.
GRAVITY, directed by Oscar (R) nominee Alfonso Cuaron, stars Oscar (R) winners Sandra Bullock and George Clooney in a heart-pounding thriller that pulls you into the infinite and unforgiving realm of deep space. Bullock plays Dr. Ryan Stone, a brilliant medical engineer on her first shuttle mission, with veteran astronaut Matt Kowalsky (Clooney). But on a seemingly routine spacewalk, disaster strikes. The shuttle is destroyed, leaving Stone and Kowalsky completely alone.
Rush
★★★
★
Opens in Australia: 3rd October, 2013
Other Countries:
Release Information
Just like the mesmerizing 2010 documentary Senna, Ron Howard's Rush takes us into the live fast-die young world of F1 racing. I'm not a rev head, and in my book cars are for getting from A to B (definitely within the speed limit), so these movies should not rev my engine.
But Rush is such a crafted film on the story of the fierce competition, in the seventies, between Englishman James Hunt and Austrian Niki Lauda that you can't help enjoying it. It's quite a remarkable tale of two crazily competitive drivers who both sought to be F1 world champions. You would be forgiven for believing the story had been Hollywood-fied but it is all true. It's an adrenaline rush and a fascinating dramatization of a historic time in motor racing sport. Even if you are not a sports or car racing fan you will enjoy this film.
Chris Hemsworth is surprisingly good as the carefree, drinking, philandering James Hunt and Daniel Brühl makes a good, very serious Niki Lauda.
This is a surprisingly good date night film. The boys will love the cars and the girls will certainly enjoy simply looking at Hemsworth, and the story moves at a quick pace to match the cars. The incredible track footage is worth the entry ticket alone.
Two-time Academy Award (R) winner Ron Howard (A Beautiful Mind, Frost/Nixon), teams once again with fellow two-time Academy Award (R) nominee, writer Peter Morgan (Frost/Nixon, The Queen), on Rush, a spectacular big-screen re-creation of the merciless 1970s rivalry between James Hunt and Niki Lauda. The epic action-drama stars Chris Hemsworth (The Avengers) as the charismatic Englishman James Hunt and Daniel Brühl (Inglourious Basterds) as the disciplined Austrian perfectionist Niki Lauda, whose clashes on the Grand Prix racetrack epitomized the contrast between these two extraordinary characters, a distinction reflected in their private lives. Set against the sexy and glamorous golden age of Formula 1 racing, Rush portrays the exhilarating true story of two of the greatest rivals the world has ever witnessed-handsome English playboy Hunt and his methodical, brilliant opponent, Lauda. Taking us into their personal lives on and off the track, Rush follows the two drivers as they push themselves to the breaking point of physical and psychological endurance, where there is no shortcut to victory and no margin for error.
Thanks for Sharing
★★★
Opens in Australia: 3rd October 2013
Perth, Australia:
See at Luna Cinemas
Other Countries:
Release Information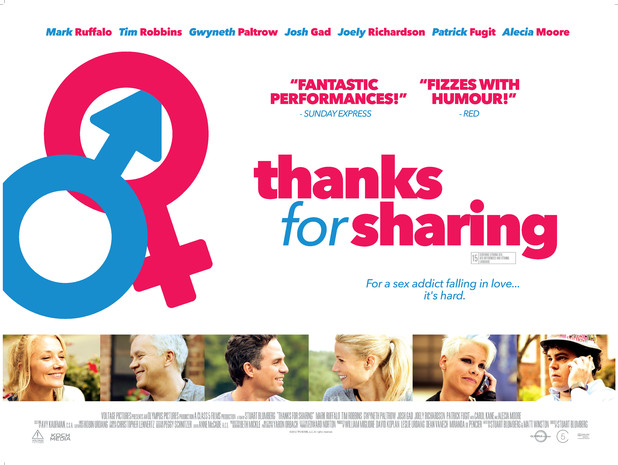 Films about addiction are a difficult topic. It's an illness but its hard to comprehend if you don't suffer from it. This one is billed as a romantic comedy but its really a drama with some good performances. It's not a very deep examination on sex addiction which was explored in far more grim and suffocating detail with last year's Shame. Gwyneth Paltrow is her usual natural self and Mark Ruffalo plays the lovable, raffable guy (as he always does well). Good performance by Tim Robbins. I'd probably catch it on DVD if you like these actors.
On the surface Adam (Ruffalo), an over-achieving environmental consultant, Mike (Robbins), a long-married small-business owner, and Neil (Gad), a wisecracking emergency-room doctor, have little in common. But all are in different stages of dealing with addiction. Confident and successful in his career, Adam is afraid to allow love back into his life, even if that means losing a chance to start over with smart, beautiful and accomplished Phoebe (Paltrow); Mike's efforts to control his wife, Katie (Richardson), and son, Danny (Fugit), as tightly as he does his impulses are tearing the family apart; and Neil is still deeply in denial when befriended by Dede (Moore), who has just begun to take her own small steps back to health.. As they navigate the rocky shores of recovery, Adam, Mike and Neil become a family that encourages, infuriates and applauds each other on the journey toward a new life. (c) Roadside
What have you seen this week? Did you find our comments helpful or do you disagree? Share your thoughts with us.