The Wolf of Wall Street is one heck of a film and is by and far the best film to catch of the new releases. If you are in gorgeous, but very hot Perth, do try and see 12 Years a Slave at Joondalup Pines over its last few days and there is also the very good A Hijacking. I saw it again this week and it really is one hell of a film. It will win the Academy Award, too. So, cinephile's you will want to know what the fuss is about. Her is an interesting film and Inside Llewyn Davis is not my favourite Coen Brothers film sadly, and I hate saying that I didn't like it.
Some great films just around the corner. More next week.
(My movie Pick of the week)
The Wolf of Wall Street
★★★★
Opens in Australia:
23rd January 2014
USA:
25th December 2013

UK:

17th January 2014
When I told a friend to prepare herself for this film because it's loaded with swearing and raunchy sex scenes, she commented that she would close her eyes in the naughty bits. If that is your plan, then you will be mostly listening to it. From start to finish it is filled with sex, drugs and behavior that beggars belief. It's a modern day Caligula.
And yet the "naughty bits" don't feel as gratuitous as other films that I have seen. It's almost necessary to show the debauchery in order to tell the true story of wealthy stockbroker Jordan Belfort's escapades in the eighties and nineties.
Leonardo Dicaprio and Jonah Hill are simply amazing on screen. Just watching Leonardo and Jonah go for it is worth the price of a ticket. There is one scene where they overdose on Quaaludes that is too bizarre believe but apparently is all true. Fabulous, too, are the smaller roles by directors, Jon Favreau and Rob Reiner, and all the other actors. Even Joanne Lumley is perfect.
I can't recommend this enough. Yes, it is a little longish, but I love Martin Scorses, and he shows here why he is considered one of the great directors. Gordon Gecko who?
Martin Scorsese directs the story of New York stockbroker Jordan Belfort. From the American dream to corporate greed, Belfort goes from penny stocks and righteousness to IPOs and a life of corruption in the late 80s. Excess success and affluence in his early twenties as founder of the brokerage firm Stratton Oakmont warranted Belfort the title "The Wolf of Wall Street." -- (C) Paramount
Somerville
20-25th Feb, 8pm Joondalup Pines 28th Jan – 2nd Feb, 8pm
Perth, Western Australia you need to attend one of Lotterwest Festival films at Somerville or Joondalup Pines. It is simply stunning sitting there amongst the pine trees.
Tobias Lindholm is the director and screenwriter of last year's The Hunt, one of those films that will stay with you that was in my top ten last year. Like The Hunt this film is also a gripping drama that unravels slowly. The Danes are becoming my favourite foreign filmmakers. Everything I see that originates from there is outstanding. This is a Danish version of a Captain Phillips hijacking at sea and its just as gripping. However, this is the story told also from the perspective of the owners of the cargo ship, the corporation and its managing director. Its dirtier and more authentic than Captain Phillips and a really enjoyable drama.
A Hijacking is showing at Somerville and Joondalup Pines for Perth people. This is a great one to see under the stars. The rest of the world, sadly, you will have to see it on DVD or streaming.
An ill-fated Danish cargo ship is hijacked in the Indian Ocean by Somali pirates. Fierce demands and risk-fraught negotiations are managed from dry-land by the ship's committed CEO. The escalating situation and the safety of the men on board hang precariously in the balance. Bristling with suspense and astute observation, this stylish, measured thriller boasts all the hallmarks of great Danish cinema.
BEST FILM Danish Bodil Film Awards 2013
DIRECTOR TO WATCH Palm Springs International Film Festival 2013 FIPRESCI PRIZE, GOLDEN ALEXANDER (BEST FILM) Thessaloniki Film Festival 2013
Opens in Australia:
16th January, 2014
USA:
10th January, 2014

UK:

14th February 2014
The idea that we can fall in love with our operating system or build a meaningful relationship with it, is one story that I can state categorically won't ever happen to me. My computer and I have a love-hate relationship. Well the last laptop and I had a hate-hate relationship. That one got itself ditched for my new MacBook Air over Christmas, which so far has been very compliant, and I think we are going to be very happy together. So, I don't think I am every falling in love with Siri or my OS like our protagonist does in Her.
It was more interesting than I expected, but every now and then I'd think to myself how utterly silly it was, and I would feel myself pulled out of the story. It's Director Spike Jonze's commentary on our love affair with iPads and smart phones and how it can all go terribly wrong. Definitely worth a look if the concept appeals, with a few outrageously funny scenes and a few cringe-worthy to match.
Spike Jonze takes the helm for this comedy about a withdrawn writer (Joaquin Phoenix) who falls in love with his computer's highly advanced operating system.
Opens in Australia:
16th January, 2014
USA:
10th January, 2014

UK:

24th January 2014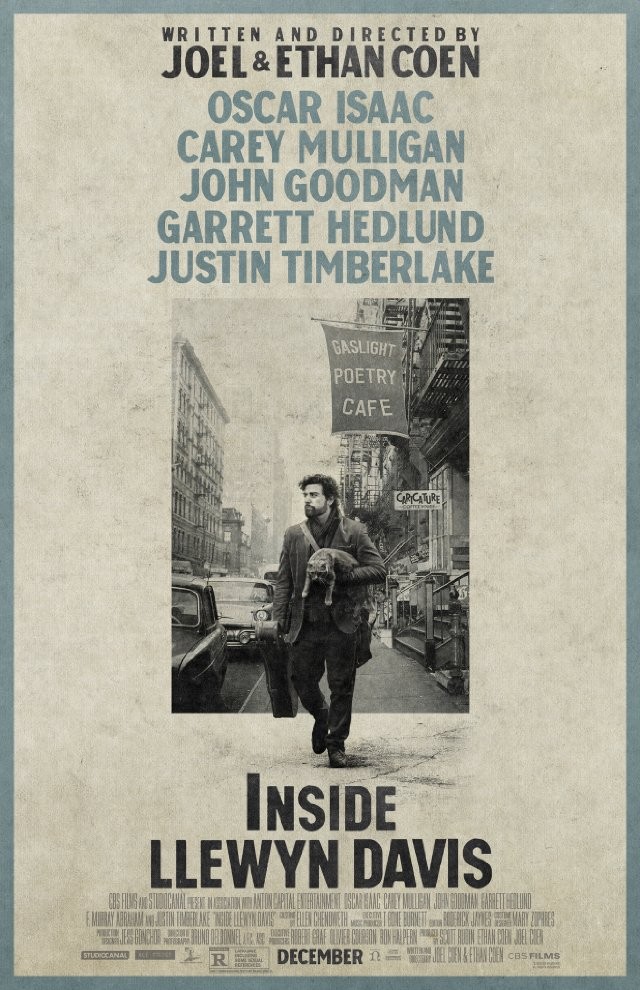 Dear Coen Brothers, you know I love you.
No Country for Old Men, Burn After Reading, True Grit, The Big Lebowski
are all genius, and the wit sublime. But
Inside Llewyn Davis
just falls short for me. Sorry boys. There's no story here and Llewyn Davis, the musician looking to hit the big time, well, he's so dull. I just didn't feel anything for him. You are known for creating larger than life characters, but this character is so self-centered and worthless I was kind of hoping at some point you might bring in a hit-man and end his and our misery (you are very good with
hit-men
). But no, it just ends with nothing, and I was left wondering what was the point. It's a nicely created genre film to give us a peek into the sixties New York City folk music scene, and if you had just added a story it would have hit the mark. But, don't worry, I will still come back for the next film because you can't have a hit every time.
INSIDE LLEWYN DAVIS follows a week in the life of a young folk singer as he navigates the Greenwich Village folk scene of 1961. Guitar in tow, huddled against the unforgiving New York winter, he is struggling to make it as a musician against seemingly insurmountable obstacles-some of them of his own making. (c) CBS
What have you seen this week? Did you find our comments helpful or do you disagree? Share your thoughts with us.