There are only two reviews for you this week. I missed a few screenings. Well I saw five in a week this week, but they are not opening in Australia yet. One of this weeks is quite a masterpiece in film-making but not for everyone. And the other is the dreary opposite. Next week some really great films open. Until then…
(My movie Pick of the week)
Opens in Australia: 26th September 2013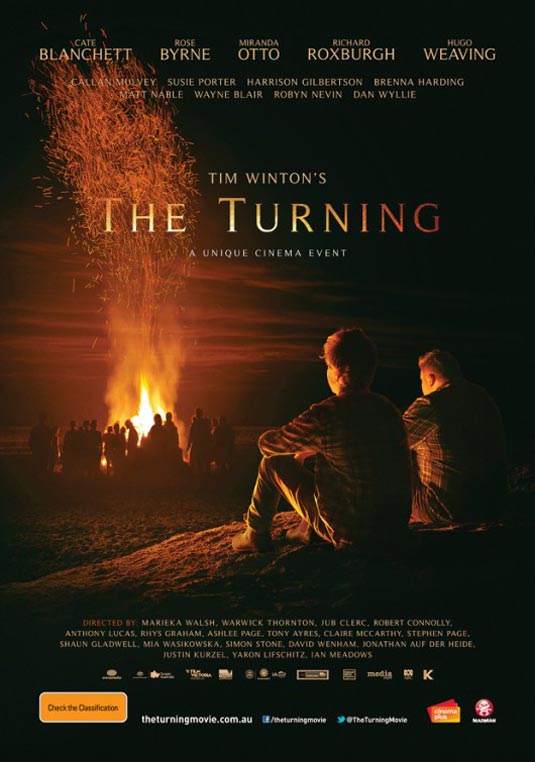 I respect this film because it's experimental and is an experience as much as it is a film. Taking 17 short stories and turning them into a film is an interesting concept. It's also a very long at 3 hours. There is an interval for those who are not as well-trained as reviewers. Some of the stories are more interesting than others and the second half definitely has the cream of the tales. I am told the screenings will also have a programme (which I think would really enhance the experience). If you are a cinema fanatic then go along and enjoy something different. If you are a blockbuster fan and like your films fast and furious, then…ah…no, this one is not for you. Still a marvelous piece for us cinephiles.
TIM WINTON'S THE TURNING, a film adaptation of Winton's best-selling novel 'The Turning', consists of 17 chapters that each features a different director and stellar cast. Under the guidance of curator Robert Connolly (Balibo), first time filmmakers Mia Wasikowska and David Wenham make their directorial debut amongst acclaimed directors such as Warwick Thornton and Justin Kurzel.
Australian talent starring in the film includes Rose Byrne, Hugo Weaving, Cate Blanchett, Miranda Otto, Brenna Harding, Richard Roxburgh, Callan Mulvey, Dan Wyllie, Oscar Redding, Robyn Nevin, Susie Porter, Wayne Blair, Mirrah Foulkes and numerous others. Many of the chapters were also shot right here in WA.
Opens in Australia: 26th September, 2013
Run, run, run as fast as you can away from this movie. It is so boring, you will sleep sleep. I made a vow not to see any more films with Justin Timberlake. He cannot act. It's like he's reading the script for the first time. But I thought how bad can it be with Ben Affleck? The answer: Bad bad. He seems to have lowered his acting standards in this so as not to show up Timberlake or Jemma Arterton. I don't even know why it is called Runner Runner. Maybe even the studio is trying to give you a heads up. Don't even get it on DVD. But, at least on DVD you can turn it off. I am renaming it Rubbish Rubbish.
Richie, a Princeton college student who pays for school with on-line gambling, bottoms out and travels to Costa Rica to confront the on-line mastermind, Ivan, whom he believes has swindled him. Ivan sees a kindred spirit in Richie and brings the younger man into his operation. When the stakes get incredibly high and dangerous, and Richie comes to fully understand the deviousness of his new boss, he tries to turn the tables on him.
What have you seen this week? Did you find our comments helpful or do you disagree? Share your thoughts with us.