THIS WEEK'S PREVIEWS
Just two for you this week and both are noir films. American Hustle which was a heap of fun, and a catch up of a film already released Kill Your Darlings. Summer has finally arrived in Perth, so I recommend catching up on some great films in the lovely air-conditioning. Next week is my last week of previews for the year. All the movie people take a break until mid-January. We film reviewers have been working our butts off (and sitting on our butts) the past month catching all the current releases and films coming out over the holidays. There are some great films just around the corner. Watch this space.
(My movie Pick of the week)
AMERICAN HUSTLE
★★★★
½
Opens in Australia:
12th December, 2013
Other Countries:
Release Information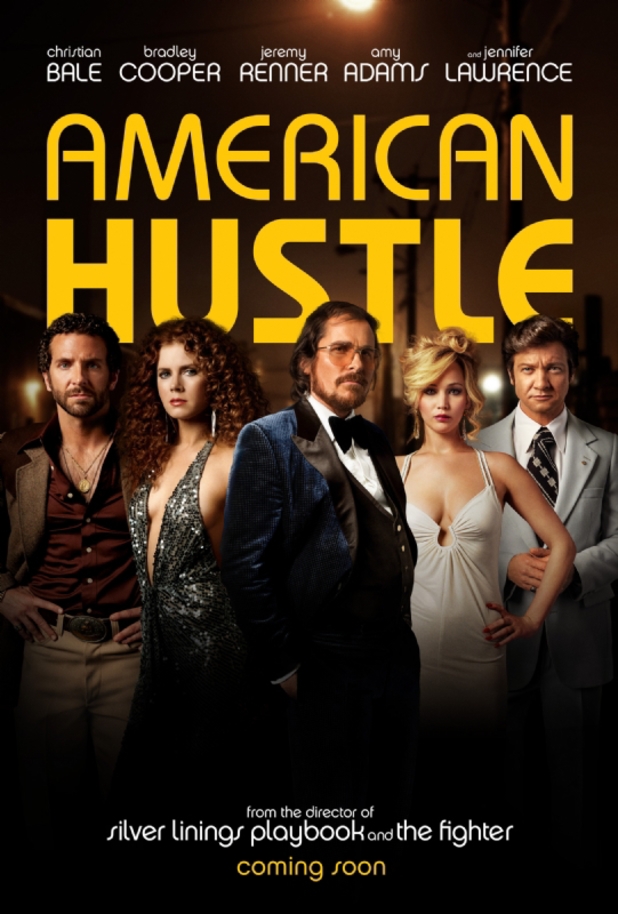 The first few minutes of the film opens with Christian Bale painstakingly pasting on a hair piece and working on a comb-over that, surprisingly, almost works. That opening scene sums up the film. It is a painstakingly created genre film and that includes maintaining the feel and the tempo of films of the seventies era. So there will be some who will find its pacing tedious.
However, it is a brilliant story, and every actor's contribution is Oscar worthy. I am not a Jennifer Lawrence fan (I was told that was the equivalent in the industry of swearing) but, she is incredible here. For her portrayal of the unhinged wife of Irving Rosenfeld (Christian Bale), I'd give her an award.
This film is a delicious treat that will drag you in and hustle you along for the ride. Let's do the hustle!
By the way, we previewed this film at Events Cinema Gold Class, which is the only way to go I've decided. Can I start a petition that all previews should now be held in Gold Class please?
A fictional film set in the alluring world of one of the most stunning scandals to rock our nation, American Hustle tells the story of brilliant con man Irving Rosenfeld (Christian Bale), who along with his equally cunning and seductive British partner Sydney Prosser (Amy Adams) is forced to work for a wild FBI agent Richie DiMaso (Bradley Cooper). DiMaso pushes them into a world of Jersey powerbrokers and mafia that's as dangerous as it is enchanting. Jeremy Renner is Carmine Polito, the passionate, volatile, New Jersey political operator caught between the con-artists and Feds. Irving's unpredictable wife Rosalyn (Jennifer Lawrence) could be the one to pull the thread that brings the entire world crashing down. Like David O. Russell's previous films, American Hustle defies genre, hinging on raw emotion, and life and death stakes. (c) Sony
Kill Your Darlings
★★★
stars
Opens in Australia:
5th December, 2013
Other Countries:
Release Information
Perth, Australia:
See at Luna Cinemas
EXCLUSIVE
This film was a little lost on me. I think there is a good story in here, but I don't think director, John Krokidas, told it. However, it has some good reviews attached to it, so it may be the stylising that didn't appeal to me. You may enjoy.
The characters are rather unlikable, and I had to do my research on the "Beat Generation" which was really a group of anti-establishment writers causing a bit of a trouble to academia. The performances can't be faulted and hats off to Daniel Radcliffe. He is really shaking off the Harry Potter persona here while facing down some demons of an entirely different breed.
But, in the end, this film feels self-indulgent. It's the film equivalent of literary books, which tend to leave me yawning. I am one who likes characters used to tell a story, and not a story used to tell us about characters.
However, it was certainly a fun little theatre visit, as it was screening in the charming theatrette, Cinema 4, at Perth Luna Cinemas. It was a new experience for me. If you are a Perth filmgoer you must check Luna out. They really do it well down there in Leederville with the outdoor cinema at the back and their beautiful art deco cinemas. They've also just launched their new outdoor cinema at bamBOO cinemas in Highgate. So get on down now that weather has turned HOT. It opens on the 18th December and runs through summer.
Daniel Radcliffe stars as Beat Generation icon Allen Ginsberg in this biopic set during the famed poet's early years at Columbia University, and centering on a murder investigation involving Ginsberg, his handsome classmate Lucien Carr, and fellow Beat author William Burroughs. The year is 1944. Ginsberg (Radcliffe) is a young student at Columbia University when he falls hopelessly under the spell of charismatic classmate Carr (Dane DeHaan). Alongside Carr, Ginsberg manages to strike up friendships with aspiring writers William Burroughs (Ben Foster) and Jack Kerouac (Jack Huston) that would cast conformity to the wind, and serve as the foundation of the Beat movement. Meanwhile, an older outsider named David Krammerer falls deeply and madly in love with the impossibly cool Carr. Later, when Krammerer dies under mysterious circumstances, police arrest Kerouac, Burroughs, and Carr as potential suspects, paving the way for an investigation that would have a major impact on the lives of the three emerging artists. Jennifer Jason Leigh, Kyra Sedgwick, David Cross, and Michael C. Hall co-star. ~ Jason Buchanan, Rovi
What have you seen this week? Did you find our comments helpful or do you disagree? Share your thoughts with us.