It's not been a great week in film releases, when I am tossing up between a so-so drama and "Fast & Furious 6" as my movie pick of the week
.
"Mud" held promise but lost its way. Fast & Furious 6
for me is the equivalent of junk food
you don't need. Then we are left with an un-funny comedy and the worst sci-fi flick I've seen this year, possibly in the last five years. Here's to a better week next week.
(My movie Pick of the week)
Mud
★★★
½
Opens in Australia: 13th June 2013
Other Countries:
Release Information
Perth, Australia:
See at Luna Cinemas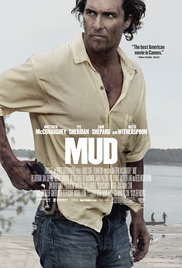 It has a positive review rating on Rotten Tomatoes of 99% and fellow Perth reviewers loved it. As much as I loved Director Jeff Nichols' previous 2011 film, "Take Shelter", his latest film "Mud" felt, well…muddied. There were so many threads to this that the main story felt lost in the middle.
It's very Mark Twain and many have called it a southern fairy-tale but I like my fairies less dirty. I also question some of the plot leaps Nichols makes, especially at the end. In fact, I couldn't get passed the whole premise of Mud living on an island in the middle of a town in the Mississippi, lighting fires and scrambling around there and nobody but two teenagers find him despite the police and a gang looking for him.
My interesting observation is that Reece Witherspoon as the rough-around-the-edges love of Mud's life looks very much like the Reece Witherspoon of the real-life arrest video, "Do you know who I am?" She's not my favourite actress and Michael Shannon who gave one of the most powerful performances I've ever seen in "Take Shelter" is barely used. So that I found annoying. But I am the odd reviewer out here, so perhaps see for yourself and let me know what you think.
Mud is an adventure about two boys, Ellis and his friend Neckbone, who find a man named Mud hiding out on an island in the Mississippi. Mud describes fantastic scenarios-he killed a man in Texas and vengeful bounty hunters are coming to get him. He says he is planning to meet and escape with the love of his life, Juniper, who is waiting for him in town. Skeptical but intrigued, Ellis and Neckbone agree to help him. It isn't long until Mud's visions come true and their small town is besieged by a beautiful girl with a line of bounty hunters in tow. (c) Roadside Attractions
(Fans of franchise)
★★★★
(All others)
★★
½
Opens in Australia: 6th June 2013
Other Countries:
Release Information
It's breaking box office records in Australia but I am not the demographic for this movie so my opinion would not be useful, I am afraid. It's the only one I have seen of the Fast & Furious franchise and I am not into cars and overly muscled men. See the problem here? So here are the opinions of the target audience moments after the film. Hear these comments in excited voices with big grins on faces.
Twelve-year-old son:
"I loved it. It had action from beginning to end and it was funny. No slow bits like most action films. And the music was fantastic. (I ended up having to buy some songs from the soundtrack for him)"
Hip, long-haired leather-jacketed guy, reviewer for a music and entertainment newspaper:
"Awesome. Best of the entire series. What a ride."
Very cool girl in her twenties, works in publicity:
"Loved it. The music was fantastic. I'm seeing it again in Hoyts' Imax with the big screen and amazing sound.
Me:
I have a headache. I need to go to bed.
Vin Diesel, Paul Walker and Dwayne Johnson lead the returning cast of all-stars as the global blockbuster franchise built on speed races to its next continent in Fast & Furious 6. Reuniting for their most high-stakes adventure yet, fan favorites Jordana Brewster, Michelle Rodriguez, Tyrese Gibson, Sung Kang, Gal Gadot, Chris "Ludacris" Bridges and Elsa Pataky are joined by badass series newcomers Luke Evans and Gina Carano. Since Dom (Diesel) and Brian's (Walker) Rio heist toppled a kingpin's empire and left their crew with $100 million, our heroes have scattered across the globe. But their inability to return home and living forever on the lam have left their lives incomplete. Meanwhile, Hobbs (Johnson) has been tracking an organization of lethally skilled mercenary drivers across 12 countries, whose mastermind (Evans) is aided by a ruthless second-in-command revealed to be the love Dom thought was dead, Letty (Rodriguez). The only way to stop the criminal outfit is to outmatch them at street level, so Hobbs asks Dom to assemble his elite team in London. Payment? Full pardons for all of them so they can return home and make their families whole again. (c) Fox
Opens in Australia: 13th June 2013
Other Countries:
Release Information
There is probably an interesting movie in here somewhere. A peak into the corporate world of Google is quite a fascinating concept, just as "The Social Network" gave us a compelling insight into the mind of Mark Zuckerberg and the creation of Facebook. However, we probably would have been served better to watch a drama as opposed to a quasi-comedy starring Vince Vaughn and Owen Wilson.
It's a by-the-numbers comedy without the comedy. You have the buddies trying to make good after losing their jobs, the girl who doesn't like Owen Wilson but is won over by his dopey charm (it's really getting old with Wilson—isn't he sick of playing these roles?) and then you have the ending where it all works out and the underdogs prevail. Hey, don't yell "spoiler" at me. You know what will happen the minute you buy your popcorn. If you like un-funny comedies with middle-age guys with no charm then this one is for you.
Billy (Vince Vaughn) and Nick (Owen Wilson) are salesmen whose careers have been torpedoed by the digital world. Trying to prove they are not obsolete, they defy the odds by talking their way into a coveted internship at Google, along with a battalion of brilliant college students. But, gaining entrance to this utopia is only half the battle. Now they must compete with a group of the nation's most elite, tech-savvy geniuses to prove that necessity really is the mother of re-invention. (c) Fox
Opens in Australia: 13th June 2013
Other Countries:
Release Information
INEPT adjective 1. without skill or aptitude for a particular task or assignment; maladroit:
Inept is the first thought that entered my mind watching "After Earth" starring Will Smith & his acting challenged son Jaden. M. Night Shyamalan (Sixth Sense) should never be allowed in a Director's chair again. Another reviewer friend commented he couldn't believe adults made this movie.
How anyone outside High School (and I apologize to the bulk of High School students) could write a script like this and anyone with $140 million to rub together could actually spend money on making it is bewildering. I could wax lyrical about the ridiculous plot-holes, the wooden acting and the bizarrely pathetic CGI but I will simply give you one of the lines spoken by Will Smith who has never been so bad in a role ever (saying a lot isn't it?): "Both my legs are broken, one more badly than the other." How bad is that?
What he is probably saying now to his son is: "One of our careers is broken, one more badly than the other." My thoughts are probably both equally. Let us hope M. Night and the Smith Father-and-son team combined don't get up and walk again too soon.
A crash landing leaves teenager Kitai Raige (Jaden Smith) and his legendary father Cypher (Will Smith) stranded on Earth, 1,000 years after cataclysmic events forced humanity's escape. With Cypher critically injured, Kitai must embark on a perilous journey to signal for help, facing uncharted terrain, evolved animal species that now rule the planet, and an unstoppable alien creature that escaped during the crash. Father and son must learn to work together and trust one another if they want any chance of returning home. (c) Sony